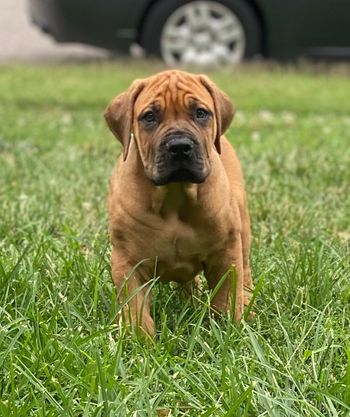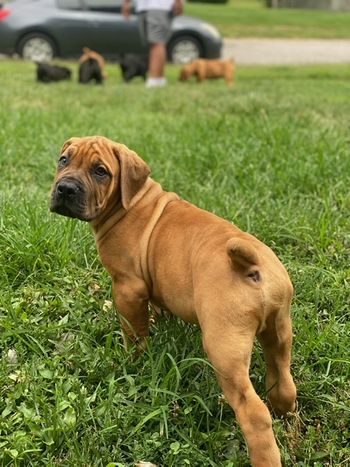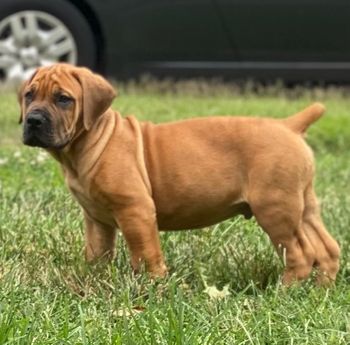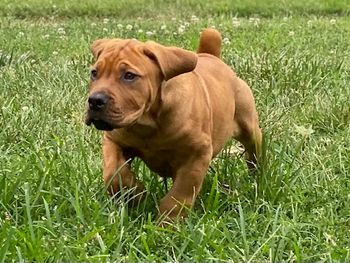 Dynasti Rafiki ands TopTier's Harley's Pups +Dynasti Rafiki and Summer pups
Show and breed quality pups ready for pick up or transport to anywhere in the U.S.
Next Generation of Boerboel Pets
As a certified dog breeder dedicated to preserving the Boerboel breed's excellence and ensuring our puppies are well-socialized, healthy, and ready to become loving and reliable family guard dogs, we take immense pride in our next generation of extraordinary Boerboels. Our youngsters are carefully bred and raised to inherit the remarkable qualities that make Boerboels renowned as outstanding guard dogs, smart and protective companions, and beloved family pets.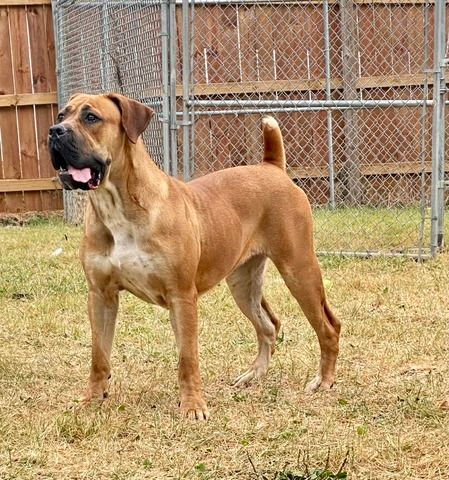 Top Tier Zuri
Meet Zuri, an adorable and inquisitive female Boerboel ready to be your loyal companion. With her lineage boasting Delatro Elijah and Trebla Kayla, Zuri embodies the best qualities of a guard dog and a family companion. She is an intelligent and protective dog, perfect for active families seeking a devoted and outdoors-loving companion.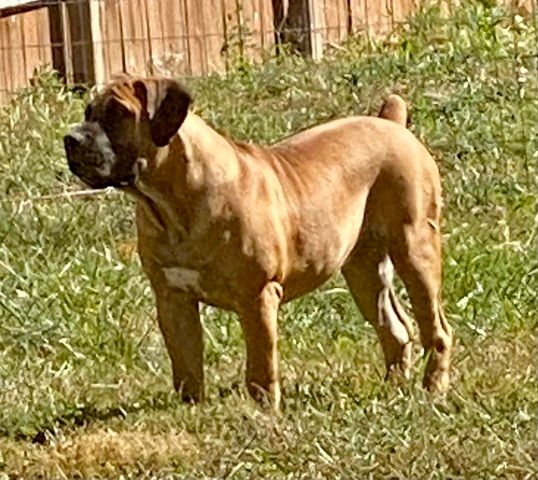 Top Tier UltraViolet (Sold)
Introducing UltraViolet, a charming and graceful female Boerboel with a captivating presence. With Delatro Elijah as her sire and Padiachy Violet as her dam, UltraViolet inherits a unique blend of beauty, intelligence, and loyalty. As a certified dog breeder, we are proud to offer this smart and protective dog to families looking for a loving and independent companion.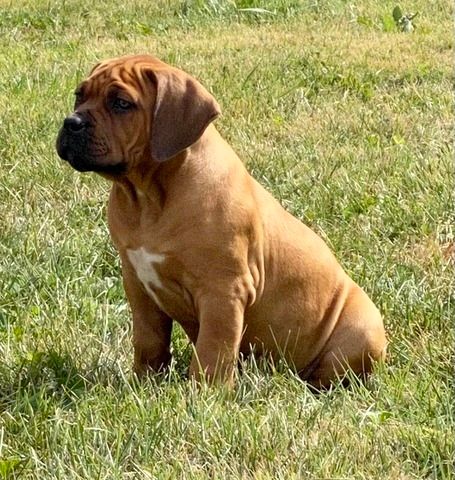 Top Tier Icy
Meet Icy, a stunning female Boerboel embodying elegance and strength. As the offspring of Ghost (Top Tier Ghost) and Powell Boerboels Africa, Icy carries the legacy of exceptional Boerboels renowned for their protective instincts and long life expectancy. With her striking features and gentle nature, Icy is an excellent choice for families seeking a loyal family guard dog.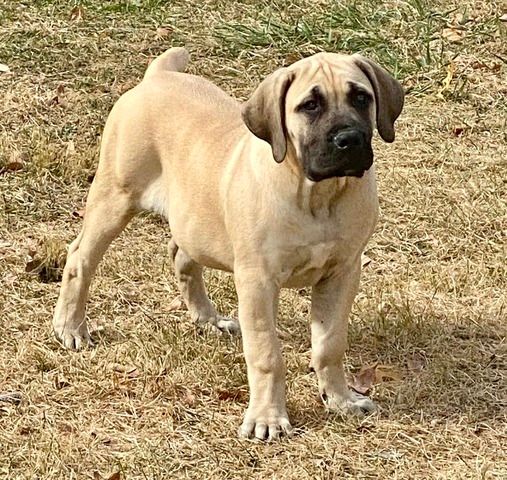 Proffer's Kandi
Proffer's Kandi is a delightful and affectionate female Boerboel that will capture your heart. With Delatro Elijah as her sire and Proffer Cookie as her dam, Kandi inherits a combination of intelligence, nurturing nature, and a love for family.
What our customers are saying

"Great experience with Top Tier. We brought our beautiful boy home just after Thanksgiving. He has the best personality and a wonderful addition to our home. Top tier is professional and helped me walk through the process. We couldn't be happier with our new pup."
— Stina R.

"On 8 Nov, 2021 I picked up "Gunny". He is very smart and very socialized. He is 12 weeks old now (15 Nov) and is learning the basic commands very easy/fast. He has a heart of gold. My vet said Von had did a great job vaccinating and documenting him. I would highly recommend Top Tier Boerboels!"
— Brian H.

"The entire process has been amazing. Our pup is the smartest and easiest gentle giant I have ever owned. He is so easy to train. If I have any questions, Top Tier is right there willing to answer and help in anyway. We couldn't be happier with Top Tier."
— Robert S.