Top Tier Boerboels
Welcome to Top Tier Boerboels, one of the most trusted US boerboel breeders. If you're looking to add a compassionate, intelligent, and protective dog you've come to the right place. With locations in St. Louis, MO, and Chicago, IL, we are committed to providing the highest quality boerboel breeds to give your family a great companion.
If you're ready to welcome a loving and loyal boerboel into your home, browse our available dogs on our website or reach out to us directly. We can't wait to assist you in finding the perfect addition to your family.Complete Questionnaire

History of the Boerboel Breed
The boerboel breed has a rich and fascinating history. Originating in South Africa, these dogs were originally bred as farm-working dogs and guardians of the homestead. The name "boerboel" translates to "farmer's dog" in Dutch/Afrikaans, reflecting their purpose. Over time, boerboels have earned a reputation for their calm and stable temperament, as well as their composure and confidence. Their role as loyal protectors has cemented their place in history and made them highly sought after as family companions.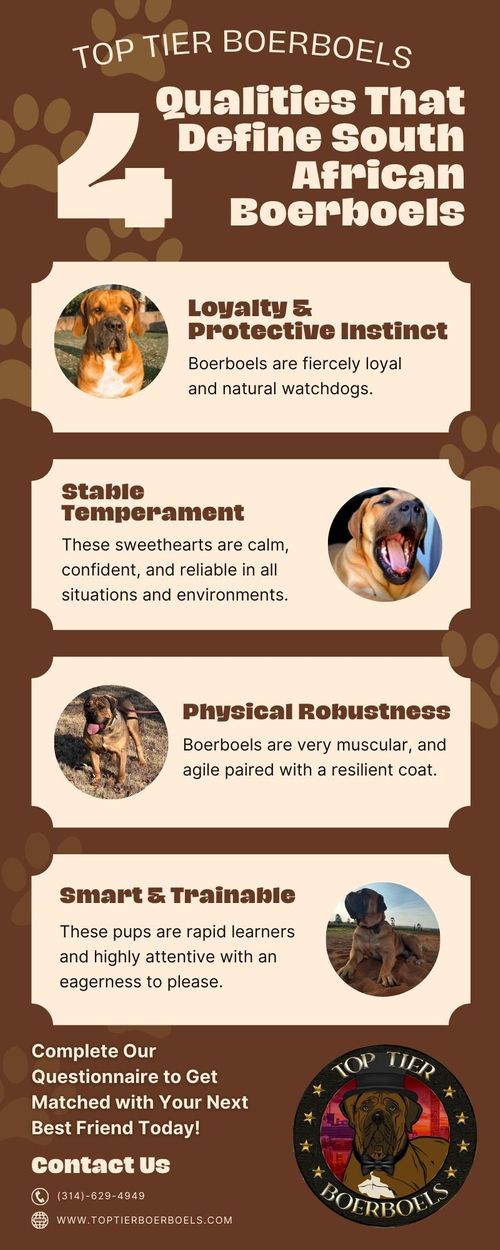 General Information About Boerboel Breeds
Boerboels are a remarkable breed with various noteworthy traits. They are known for being dogs with long life expectancies, impressive size, muscular build, and great strength and power. Despite their imposing appearance, boerboels are gentle and affectionate towards their families. They are highly intelligent and trainable, making them versatile in various roles such as obedience, tracking, and therapy work. Boerboels require consistent socialization and training due to their protective nature, and they thrive in a loving and active household environment.






Our Current Dogs
At Top Tier Boerboels, we take immense pride in our exceptional boerboels. Our dogs are not just pets; they are cherished members of our family. We prioritize breeding boerboels that embody the breed's standard and showcase the best characteristics.
Among our remarkable male boerboels, you'll meet Ghost, a striking brown-coated male with an impressive SABBS score. With his captivating light brown coat, Uso brings a perfect blend of beauty and temperament. Delatro Elijah and Dynasty Rafiki are stunning males that embody confidence and grace.
In our female boerboels, we have the stunning Harley with a shiny black coat, exuding elegance and loyalty. Amina combines beauty and intelligence, while Mariah adds grace and playfulness to any family. Trebla Kayla radiates charm and loyalty, and Puma impresses with her strength and confidence. Missy, with her striking black coat, brings a mixture of confidence and affection. Summer brightens the lives of those around her with her loving nature, and Africa will impress with her intelligence and grace.
Our youngsters are all unique, we have Zuri who is an intelligent and protective female dog who makes the perfect family companion. Ultra Violent is an intelligent and loyal female, and Top Tier Ozai is a confident, loyal, and protective male. Icy is a gentle and loyal female, and Kandi inherited a nurturing and intelligent nature.
Choose Top Tier Boerboels
At Top Tier Boerboels, we have established ourselves as the leading reputable boerboel breeder. Our utmost priority is the health and well-being of our puppies. Before going to their forever homes, each puppy undergoes thorough DNA testing, vet checks, and microchipping. This ensures that you receive a boerboel of the highest quality. Our commitment to meeting the standards set by NABBA (North America Boerboel Breeders Association) ensures that you receive a boerboel that is nothing short of exceptional. To provide our dogs with the best upbringing, we offer a loving kennel home environment. Our boerboels are socialized in comfortable household settings and enjoy plenty of activity to grow into well-rounded dogs.
If you're looking for the best boerboel breeds, Top Tier Boerboels is your ideal choice. With our extensive knowledge of the breed and commitment to excellence, we are proud to be recognized as one of the top boerboel breeders in the United States. Whether you're seeking a loyal guardian or a loving family companion, our boerboels embody the breed's standard and bring joy to countless families in St. Louis and Chicago. Explore our website, contact us, and take the first step towards welcoming a remarkable boerboel into your life.
What our customers are saying

"Great experience with Top Tier. We brought our beautiful boy home just after Thanksgiving. He has the best personality and a wonderful addition to our home. Top tier is professional and helped me walk through the process. We couldn't be happier with our new pup."
— Stina R.

"On 8 Nov, 2021 I picked up "Gunny". He is very smart and very socialized. He is 12 weeks old now (15 Nov) and is learning the basic commands very easy/fast. He has a heart of gold. My vet said Von had did a great job vaccinating and documenting him. I would highly recommend Top Tier Boerboels!"
— Brian H.

"The entire process has been amazing. Our pup is the smartest and easiest gentle giant I have ever owned. He is so easy to train. If I have any questions, Top Tier is right there willing to answer and help in anyway. We couldn't be happier with Top Tier."
— Robert S.